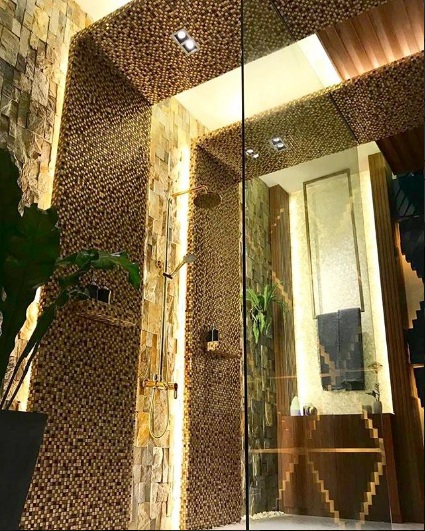 Annually, the graduating batch of Interior Designers from the Philippine School of Interior Design (PSID) mounts an exhibit showcasing masterfully designed interior spaces with central themes. This year, PSID is celebrating its 50th year anniversary and as with the previous years, Mozzaico is there to support the beautiful interior designs of these talented designers.
In this culminating event, PSID together with PSID-Ahlen Institute is proud to present "G.O.L.D." which showcases glamorous, opulent and luxurious spaces spread over 3 galleries of 24 unique and creative interior design trends befitting this golden year. The galleries will take guests on a journey that presents in grand fashion, an anthology of styles and trends that epitomize PSID's 50 years of interior design education excellence.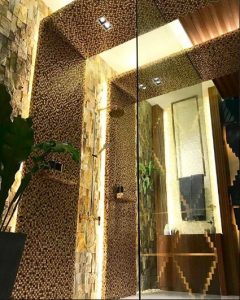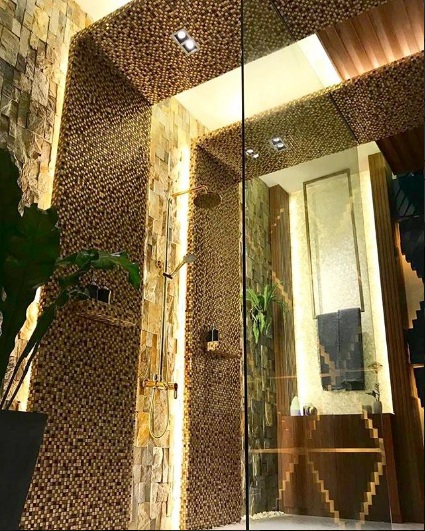 Mozzaico sponsored three competing booths this year for their mosaic and floor tile requirements. First, is the NeoArchipelago design of Booth #12 with the new ethnic theme, a modern interpretation of a cultural en suite bathroom inspired by the beauty of the Philippine archipelago. That being said, Sulu motifs, Badjao stilt houses, natural rock formations, lush tropical forests, and capiz shells take new forms in this distinctly lavish space. The warm lighting gives off a relaxing vibe, which is generally fundamental to bathrooms. NeoArchipelagoused Kristel Peach Mosaic by Mozzaico as the material for their shower room wall to ceiling accent to give their design that luxurious and glamorous look and feel in accordance with the G.O.L.D. theme .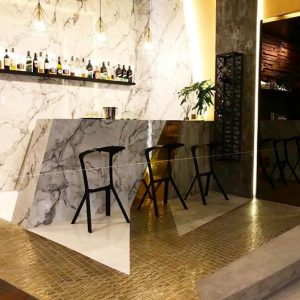 KintsukuRoom, a Japanese inspired Den design of Booth #17 is the second booth sponsored by
Mozzaico for their Dutti Oro gold mosaic tile flooring accent, as well as, the white marble design Calacatta tiles. This den is meant for rest and relaxation after a day of hard work. The concept came from the  Japanese art of repairing broken pottery (kintsukuroi or kintsugi) with the use of gold and Abraham Maslow's Hierarchy of Human Needs (which places self-transcendence as man's prime motivation).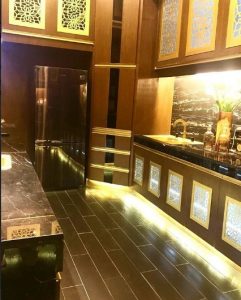 Drawn to the mysteries of Balinese architecture,   the designers of Booth #3, the third booth sponsored by Mozzaico for their Maple Nero black wood tile flooring, designed a kitchen that would cater to a naturalist foreigner with a laid back way of life. Balinese architecture is widely known as a tropical architectural style, and it is amazing how elegance and luxury were incorporated in this space, mainly through the breathable space that allows a client to be one with nature.The Philippine School of Interior Design (PSID), a prestigious academic institution dedicated to Interior Design education provides technical and creative training in the field of Interior Design as it harnesses each student's creative skills and abilities to become competent, ethical and responsible Interior Design professionals.The GOLD Exhibit will run through the entire month of October at the Uptown Mall in Bonifacio Global City in Taguig City.