MALAYSIAN AND FILIPINO ARTISTS EXPERIENCE MOSAIC ART MAKING FOR THE FIRST TIME
Malaysian and Filipino artists gathered in Mozzaico last November 22 for their first-hand experience in creating mosaic art. This is part of the week-long Philippine-Malaysian Art Exchange Program entitled Synergism: Unifying Communities and Bringing Meaningful Changes Through Culture, Tourism and the Arts.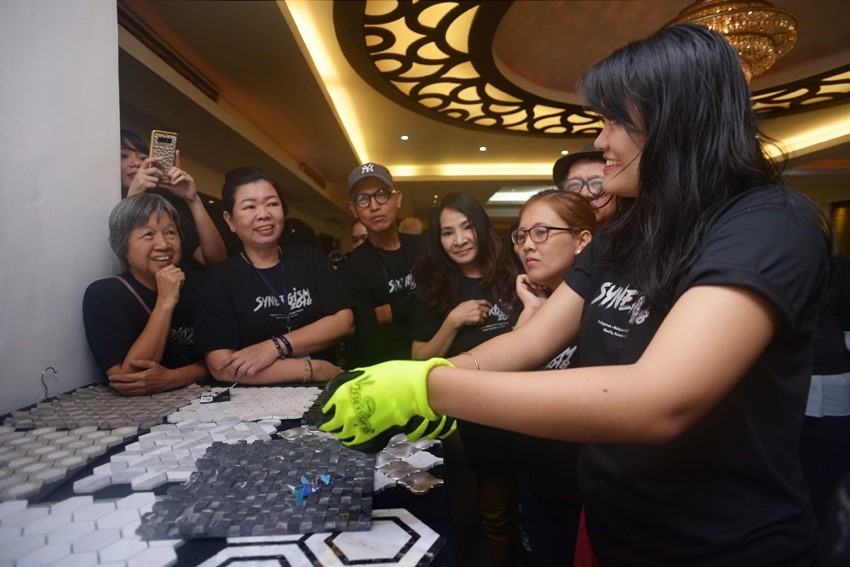 The Filipinas Institute for the Advancement of Arts and Culture (FilArts) partnered with Mozzaico to educate the visiting Malaysian artists and the local Filipino artists about mosaic art and to teach them how to create mosaic artwork for the first time.
The Malaysian Delegation is headed by veteran painter Cheong Mei Fong who has won awards and had numerous exhibitions since 1990. She owns the Island Gallery in Penang, where she helps young people and individuals with disabilities to pursue their passion for the arts. After experiencing the art of mosaic making for the first time, Madam Cheong as she is fondly called by her peers has this to say, "Very interesting and timely. Mosaic is classy and is a very new medium for us to explore. As a diamond designer, I am very familiar with gemstones. So I think I will use mosaic to represent art."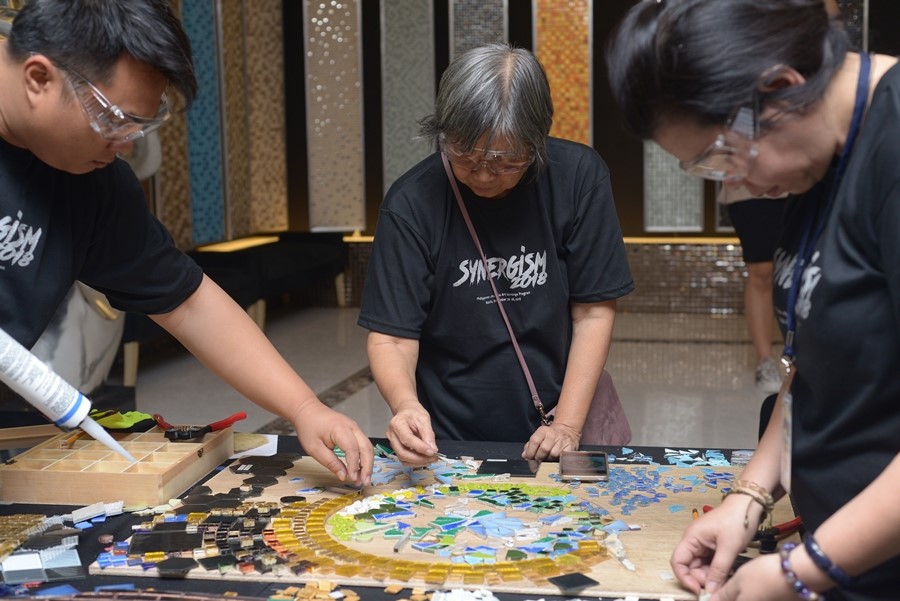 Multi-awarded international Filipino Contemporary Artist, Allanrey "Migz" Salazar and Abu Jalal Sarimon, founder of TUJU Art Group and Executive Director of the Singapore Modern Art Society, shared their own experiences and passion for art by encouraging their fellow artists to keep on creating and sharing their craft.
"As the saying goes, 'A man without art is a man without soul.' You must have passion for your art. You need to follow your passion and success will definitely follow," says Salazar, a Paris-based Filipino multi-awarded artist noted for recently representing the Philippines at the XI-Florence Biennale Contemporary Art. His works were published 12 times in international book publications in Paris, London, Venice, Florence, Bologna and Rome. He has joined numerous international exhibitions and prestigious Biennale in Europe.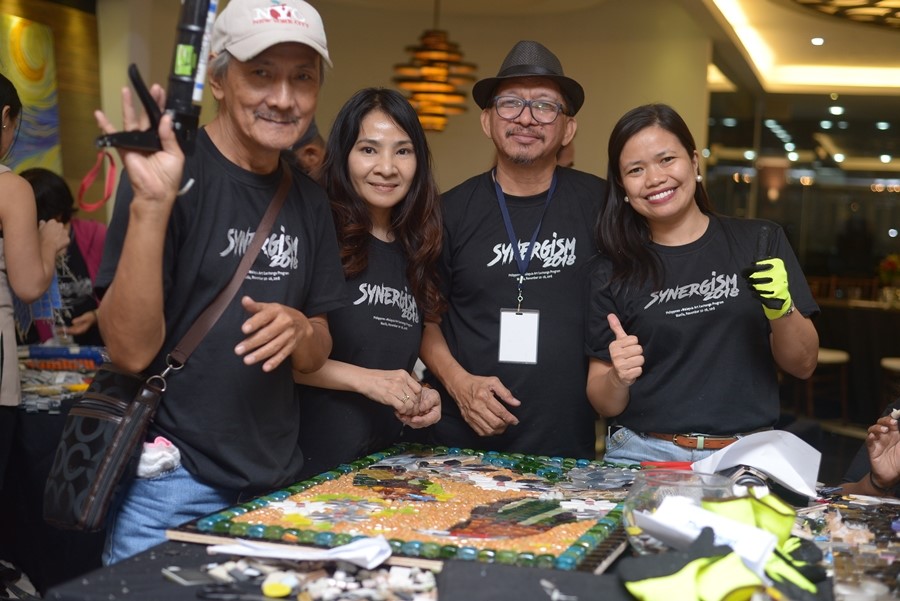 Sarimon, on the other hand emphasized the dynamism of art and the importance of sharing it. "When you do something good, what is the next thing to do? It is to share it to people. And in life, you have to promote yourself, because there's no one out there who will promote you. Not even a gallery, not even a museum. Because you have to speak for yourself. Your artwork will speak for yourself." Sarimon is a Gold Award winner of 2017 UOB Painting of the Year in Singapore in the Established Artist Category.
As the artists' excitedly worked in groups to create their mosaic masterpiece, the workshop has become a venue for fun interaction, collaboration, and artistic exchange of ideas between people of different languages, culture, and nationality. And the rich diversity is reflected in various themes and colors of their finished artworks.
With their introduction to the world of mosaics and first-time experience with mosaic art making, the artists were all interested to pursue using mosaic as a medium for their art in their future works.